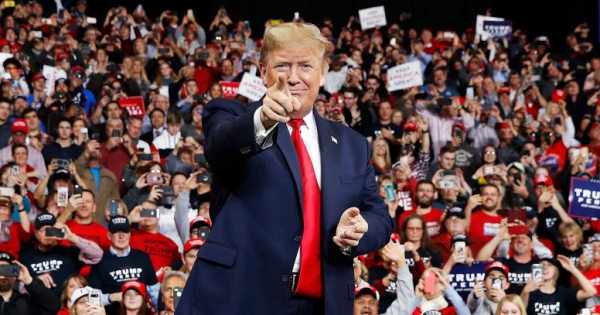 July 19, 2021 National File by Patrick Howley
President Donald Trump supporters and American patriots nationwide are emboldened after an Arizona state Senate hearing on the Maricopa County election audit proved massive fraud. Among the audit's findings so far: 11,326 people in the county who voted in the November 3 election were NOT on the voter rolls on November 7, but were added to the voter rolls by December 4. This number is higher than Joe Biden's supposed statewide "lead" in Arizona of 10,457 votes. Additionally, more than 74,000 mail-in ballots were counted in the county even though there is no recorded evidence of the ballots being sent to the "voters" in the first place — and Maricopa County withheld all photographic evidence of the mail-in ballot envelopes from the Republican audit team (meanwhile, photographs show ballot printers and boxes getting loaded onto a "Destruction" truck in Phoenix during the Senate hearing). Thin ballot paper used for approximately 168,000 ballots led to markers "bleeding through" the paper, damaging ballots, after a Maricopa County official ordered staff to hand out Sharpie markers to same-day voters even though she knew about concerns with the Sharpies. Another round of subpoenas is expected, as state senators call for the Republican-controlled Arizona legislature to decertify the election and "recall" Joe Biden's electors in the state. Activists on the ground are fighting to get a warrant from necessary Arizona senators to compel Maricopa County to hand over more evidence.
https://skagitrepublicans.com/ArizonaAuditFindsEnoughTaintedBallotsToEraseBidensLeadAsSenatorsCallToDecertifyElection
However, as expected mainstream media is reporting – PHOENIX (AP) — Former President Donald Trump issued three statements in two days falsely claiming that voting fraud and irregularities cost him Arizona's electoral votes.
Trump relied on comments made Thursday by contractors hired by state Senate Republicans to oversee a partisan review of the 2020 vote count in Maricopa County, which includes metro Phoenix.
The "forensic audit," as Senate GOP leaders are calling their review, is overseen by Cyber Ninjas, a small computer security firm with no election experience before Trump began questioning the 2020 results. Its CEO, Doug Logan, spread false conspiracy theories about the election before he was hired to lead the Arizona review.
Logan and Ben Cotton, a digital forensics analyst working on the audit, described issues they say need further review. Trump has parroted them as evidence the election results are tainted.
According to a recent broadcast with Michael Jaco, Scott Mckay and CirstenW, Trump is only days away from coming back! Can their intel be trusted? Who really knows at this point. If Trump does come back in a matter of days or weeks then I guess their information is solid. Personally, I am not holding my breath at this point.
Link provided below.
https://beforeitsnews.com/alternative/2021/07/former-navy-seal-michael-jaco-patriot-street-fighter-and-cirsten-w-intel-update-video-3754717.html?fbclid=IwAR3CV92UYy5rT4VqeRYq1g1dyIxbwhsw1mxj_LZde_xJRbtG7cKUQfAR8Ns