JANUARY 7, 2022
https://www.theguardian.com/us-news/2020/jun/11/chaz-seattle-autonomous-zone-police-protest
And then there was CHAZ or originally named CHOP – Antifa activitists take over 6 city blocks in Seattle.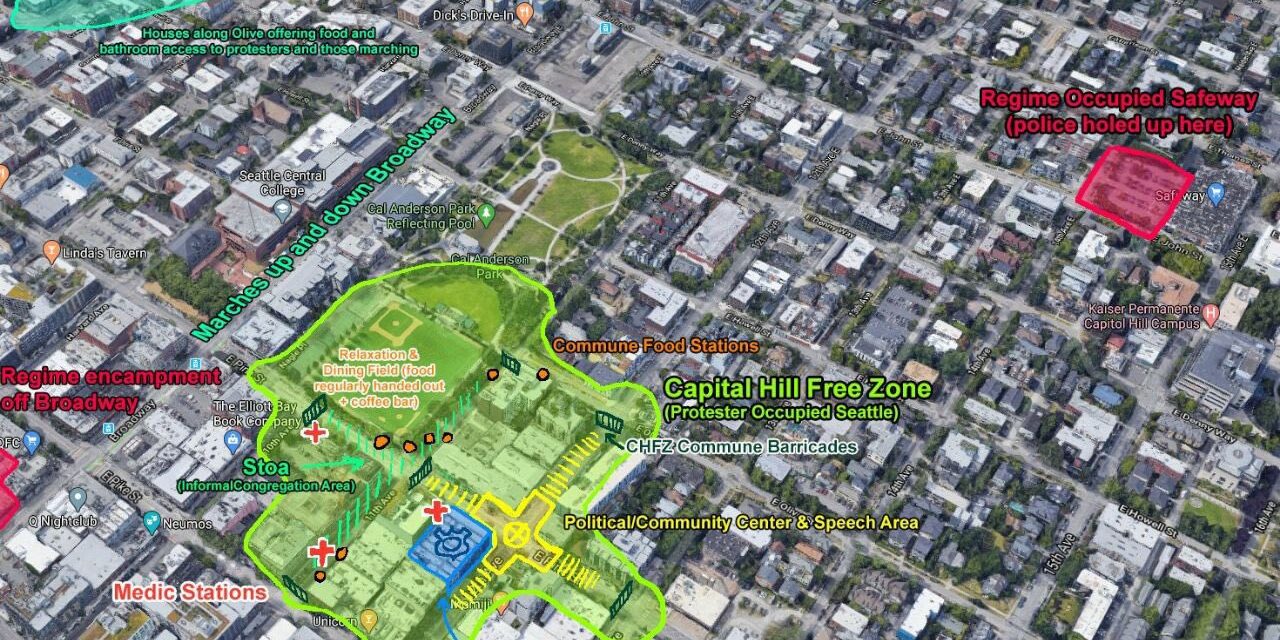 The Capitol Hill Occupied Protest or the Capitol Hill Organized Protest (CHOP), originally Free Capitol Hill and later the Capitol Hill Autonomous Zone (CHAZ), was an occupation protest and self-declared autonomous zone in the Capitol Hill neighborhood of Seattle, Washington. The zone, originally covering six city blocks and Cal Anderson Park, was established on June 8, 2020, by George Floyd protesters after the Seattle Police Department (SPD) left its East Precinct building.The zone was cleared of occupants by police on July 1. Its formation was preceded by a week of tense interactions between protesters and police in riot gear which began on June 1 and escalated on June 7 after a man drove his vehicle into the crowd and shot a protester near 11th Avenue and Pine Street. Tear gas, flashbangs and pepper spray were used by police in the densely populated residential neighborhood. On June 7, the SPD reported that the crowd was throwing rocks, bottles and fireworks and shining green lasers into officers' eyes. The next day, police boarded up their building and moved out of the East Precinct in an effort to de-escalate the situation.
Deep State Dems called it a peaceful festival.
In the early hours of Saturday morning, another teenager, 19-year-old rapper Lorenzo Anderson, was shot dead – with another person left critically injured – during a shooting inside the "cop free" zone. Just a 'Street Festival' right Mayor?
https://www.kgw.com/article/news/local/seattle/seattle-police-investigate-capitol-hill-shooting/281-04c066b5-e492-4441-a5a5-cd5805144238
CHAZ: CORRUPT LIBERAL POLITICIANS WHO RUN SEATTLE ARE ALLOWING ANTIFA RIOTERS TO REMAIN IN CONTROL OF CAPITOL HILL AUTONOMOUS ZONE
Barriers originally set up by police have been repurposed to set up the borders of the zone. What used to be the Seattle Police Department on the corner of 12th and Pine now reads "Seattle People Department." It's unclear how long the Capitol Hill Autonomous Zone will be allowed to remain in the area around 12th and Pine, or even how long police plan to stay out of the East Precinct. In the meantime, though, the crowd appears hunkered down for the long run.
Seattle Mayor Jenny Durkan announced that police at the city's East Precinct would be leaving the area and reopening streets that had been blocked off for almost two weeks. It didn't take long before what's become known as the 'Capitol Hill Autonomous Zone' known as CHAZ began to take shape.
CNN perspective – Deep state Democrat Mayor calls it a 'block party atmosphere'. After the third shooting she finally pledges to dismantle CHOP/CHAZ.
CHAZ FOURTH SHOOTING
CHAZ FOURTH SHOOTING IN 9 DAYS ON THE "STREET FESTIVAL"
The current January 6 Witch Hunt is just that, a Witch Hunt to prevent Donald Trump from ever running again. They know he would win and the fake insurrection card is what they have mustered up to ensure a Democrat Puppet President remains in the Oval Office.
There was no insurrection on Janaury 6, 2021 but the Deep State shadow government continue to spin their web of lies brainwashing the public to believe this to be truth.