THEY WALK AMONG US!
I SPY WITH MY LITTLE QUEEN'S EYE!
PIZZAGATE – PART ONE
JAMES ALEFANTIS, JOHN PODESTA, HILLARY CLINTON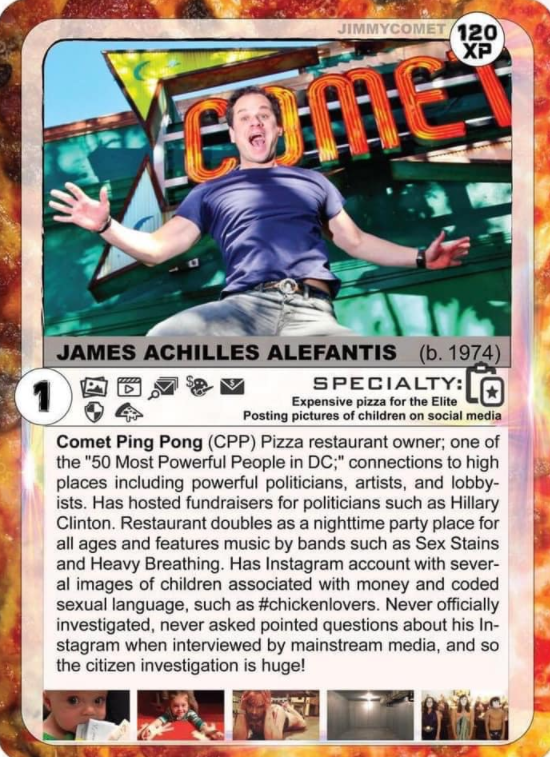 Comet Ping Pong still remains open and operated by Alefantis.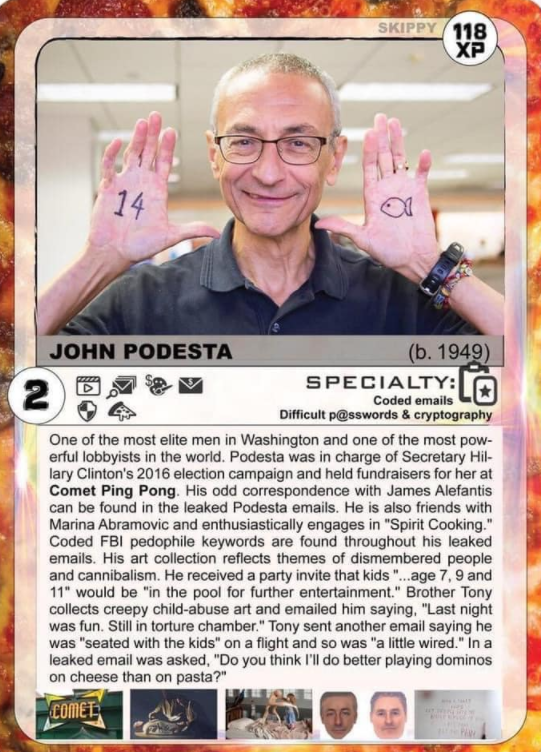 Video from the "Weiner" laptop, file labeled "insurance".
The beginning of the Q Drops is how this movie ends. Everything we are seeing in real time has already occured. Podesta's plane was escorted by Military and forced down. Where is John and Tony Podesta now? GITMO? EXECUTED? The intel of arrests and executions provided tells us that Tony Podesta has been executed and John Podesta is in GITMO.
"SACRIFICING A CHICKEN TO MOLOCH" = The sacrifice of a child
New satanic shoes 👞 that are advertised with their front man satanic musician Lil Nas, contain actual human blood in the "soul" (sole) and the kicker? Only 666 pairs have been produced! If this new line of footwear doesn't wake up the brainwashed media…maybe his music video will!
PART ONE – FALL OF THE CABAL
PART TWO – FALL OF THE CABAL
PART THREE – FALL OF THE CABAL
PART FOUR – FALL OF THE CABAL
PART FIVE – FALL OF THE CABAL
PART SIX – FALL OF THE CABAL
PART SEVEN – FALL OF THE CABAL
PART EIGHT – FALL OF THE CABAL
PART NINE – FALL OF THE CABAL
PART TEN – FALL OF THE CABAL
Operation Paperclip – MK Ultra Mind Control
Kurt H. Debus, a former V-2 rocket scientist who became a NASA director, sitting between U.S. PresidentJohn F. Kennedy and U.S. Vice PresidentLyndon B. Johnson in 1962 at a briefing at Blockhouse 34, Cape Canaveral Missile Test Annex.
Operation Paperclip was a secret US intelligence program in which more than 1,600 German scientists, engineers, and technicians, such as Wernher von Braun and his V-2 rocket team, were taken from Germany to the United States, for U.S. government employment, primarily between 1945 and 1959. Conducted by the Joint Intelligence Objectives Agency (JIOA), it was largely carried out by special agents of the US Army's Counterintelligence Corps (CIC). Many of these personnel were former members, and some were former leaders, of the Nazi Party.[1][2]
The primary purpose for Operation Paperclip was U.S. military advantage in the Soviet–American Cold War, and the Space Race. In a comparable operation, the Soviet Union forcibly relocated more than 2,200 German specialists—a total of more than 6,000 people including family members—with Operation Osoaviakhim during one night on October 22, 1946.
Shortly after I woke up to the deceit of the Illuminati Cabal I discovered this 3.5 hour video, "Everything is a rich man's trick". The truth about the assassination of JFK, the wars, 9/11 and how the Bush family were the main orchestrators for the love of money, power and the cabal.
The information given in this documentary is a history lesson in itself, in fact it's an entire history course. After watching it my first thought was how all history textbooks would require a complete overhaul, all need to be rewritten. The information that is presently being taught in the education system throughout the world is all lies.
I have watched this documentary 6 times and took notes during each viewing.
This documentary should be on the list for everyone who is just becoming "Awake and Aware".
Where have all the children gone?
Information to help wake up the indoctrinated Mainstream Media watchers.
In this section of the website I will format information that will be to the point but not too overwhelming for those who are just becoming "Awake" and "Aware".
I have woken up people by using the very weapon that has had them under hypnosis…movies and TV programs. I have discovered that they can relate to the very medium that has lulled them to sleep.