APRIL 6, 2021
"APRIL SHOWERS"
The Suez Canal is blocked again this time by an Italian ship identified as "Rumford" and an Oil Tanker identified as "Minerva Nike"
Two Aframax tankers in ballast ran aground while transiting Suez Canal near 132 kilometer mark, about to enter Great Bitter Lake in northbound convoy, reported GAC.com. GAC didn't identify tankers, but according to tracks, these two grounded ships are identified as RUMFORD (IMO 9473066, dwt 107505, flag Italy), and MINERVA NIKE (IMO 9255696, dwt 105320, flag Greece). RUMFORD ran aground first, at 1010 LT (UTC +2), MINERVA NIKE ran aground later, she was sailing in 22-ships convoy behind RUMFORD. RUMFORD was refloated at 1320 LT, while MINERVA NIKE remained aground.
According to track, as of 1130 UTC MINERVA NIKE was also refloated and already under way in Great Bitter Lake. Understood both tankers didn't sustain damages, though it may not be the case with RUMFORD, she's moving in Great Bitter Lake at some 6.6 knots surrounded by 3 tugs, probably under tow.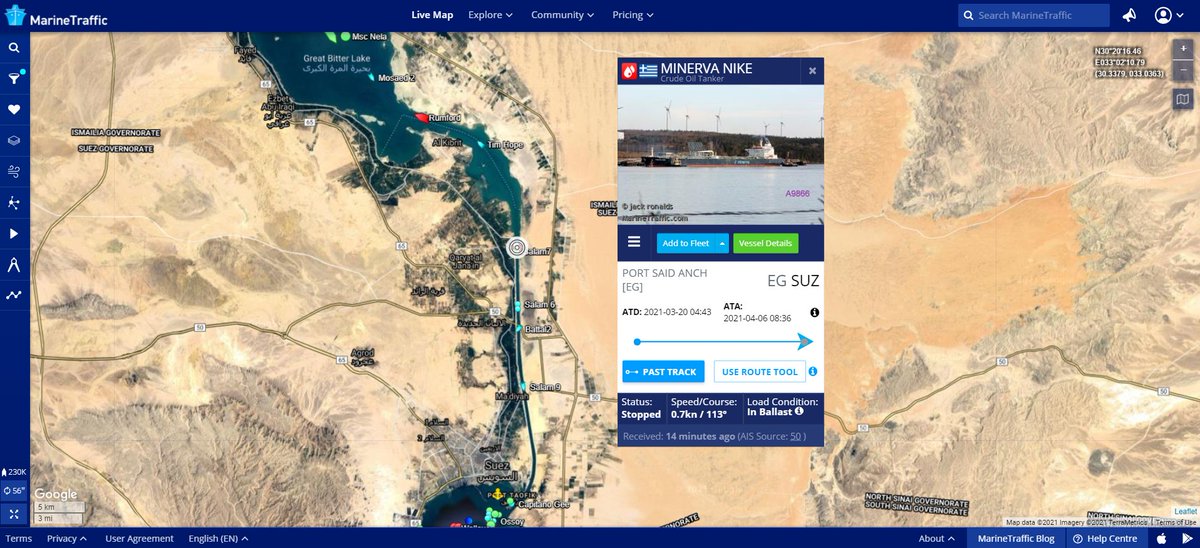 The meaning of "Minerva" as sited: Did you catch the key words STRATEGIC WARFARE, COURAGE, VICTORY, WAR, LAW, BRAVERY, HEROISM, PROTECTION, MEDICINE? Coincidence? How many coincidences until it is mathematically impossible?
Minerva
Goddess of poetry, medicine, strategic warfare, commerce, weaving, the crafts, wisdom, courage, inspiration, victory, war, law, civilization, bravery, heroism, protection, city state, family, justice, mathematics, science, technology, strength, strategy, the arts, and skill
Member of the Capitoline Triad
Fresco of Minerva (helmeted figure on right) from the Villa San Marco, Stabiae (1st century AD)
Symbols
Owl of Minerva, olive tree, serpentof Jupiter, the Parthenon, the spear, the spindle, spiders and Hellebore
Gender
Female
Parents
Jupiter
Metis
Equivalents
Greek equivalent
Athena
Etruscan equivalent
Menrva
Canaanite equivalent
Anat[1]
Egyptian equivalent
Neith
Celtic equivalent
Sulis